---
About the "Perspectives on Cancer Survivorship" Researcher Series
What is cancer survivorship? By definition, survivorship is the absence of cancer after the completion of treatment or living with, through, and beyond cancer [1]. The majority of the research focuses on survival, but there has been a push to expand research to include the post-cancer journey. The intention of this series is to highlight those doing research on survivorship and quality of life, as well as the implications for their work.
[1] According to https://www.cancer.net/survivorship/what-survivorship
---
Impact of Hormone Therapy Use on Survival Outcomes of Ovarian Cancer in British Columbia
Authors: Alexandra Lukey (1), Dr. Gillian Hanley (2), and Dr. Gavin Stuart (2)
School of Nursing, University of British Columbia Okanagan (1), Department of Obstetrics and Gynecology, University of British Columbia (2)
Ovarian cancer is the 8th leading cause of death in women worldwide. Ovarian cancer is considered a gynecologic cancer, but it is also known to be influenced by hormones. Hormone replacement therapy is a common strategy to improve the quality of life of women who have menopause symptoms. Common symptoms include hot flashes, sexual dysfunction or sleep problems. However, many people with ovarian cancer and ovarian cancer survivors are not treated for menopause symptoms due to a lack of research on hormone replacement therapy and ovarian cancer.
There have been some studies to test the safety of using hormone replacement therapy for people with ovarian cancer. These studies found that hormone therapy use either had no effect or a slight positive effect on survival. However, many of these studies did not differentiate by hormone type or relied on patient recall for the data. So, overall, the evidence is low to guide clinicians. Our study aims to investigate the pre-diagnosis use of hormone replacement therapy and ovarian cancer survival using population-based data. We are investigating the duration, type, and timing of hormone replacement therapy use in a population-based study of ovarian cancer patients in British Columbia. While we do not yet have final results to share, this study will present evidence that will contribute to the safety and possible benefit of specific hormone replacement therapy regimens in ovarian cancer patients and survivors.
---
Q: What inspired you to do this research?
With my clinical experience, I always felt that research focused on patient experience was really important but often underfunded, so I thought this work around survivorship and quality of life was really important. By chance, I met Dr. Gavin Stuart at a conference a few years ago, and he invited me to join the Women's Health Cluster, given my interest in women's health. That summer, I got an email from him asking if I wanted to apply for the Women's Health Clinical Mentorship Grant and suggested I get in touch with Dr. Gillian Hanley. I was so excited to be awarded this grant with Dr. Hanley and Dr. Stuart because I wanted to grow my skills in observational research, but the project still has a strong quality of life lens to it. I'm also so grateful to be able to work with such incredible mentors. 
Q: Why is this research important?
This research is looking at some of the survival outcomes of hormonal replacement therapy (HRT) in ovarian cancers by looking at population-based data sets. There has been a lot of unknowns surrounding the safety of HRT over the last couple of decades, but we know it can make a big difference in the quality of life for these women by relieving common symptoms of menopause. This is a big issue for this group of ovarian cancer patients because most are near or post-menopause. This also impacts younger patients who are diagnosed with ovarian cancer because many may experience surgical menopause because of their ovarian cancer treatment.
Using HRT for menopause symptoms is a research area that in general, needs a lot of work. With this research, we wanted to see if there are positive or negative impacts on mortality because we still need to establish the safety and more specific guidelines for using HRT in this population.
Q: What is the most valuable thing you've learned about survivorship from your research?
To start, ovarian cancer is tricky because of the lower survival rates, so the focus is automatically on patient survival. But there are also issues survivors face after since their quality of life is often impacted by their treatment.  With this in mind, it is so important that research focuses on improving both survivorship and quality of life. It is also essential that research is patient-centered and patient voices are uplifted. Gynecologic cancer patients are all different and have different experiences, so the more patient partners the better. Although research is an enjoyable process for me, the research isn't for me. By involving patient partners, I think that better quality research can be done, and the findings will be more likely to be translated into practice.  
Q: What's next for your research? Are there any other aspects of survivorship you want to explore?
There is still so much to explore! If we find differences in patient mortality, it would be good to replicate the study with different populations to confirm the results. I do not expect this research to give all the definitive answers, but I hope it is one more step in the right direction to find regimens that are safe, but are also improve patient quality of life.
---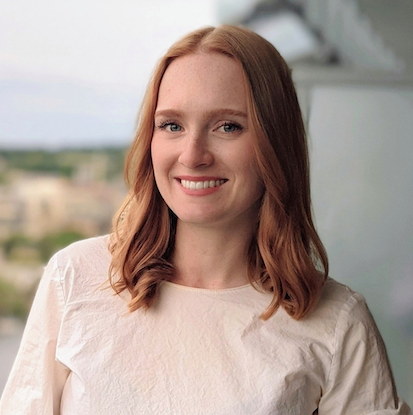 Alex Lukey is an incoming public health PhD student who presented at the Gynecologic Cancer Initiative Trainee Research Day on June 3rd – 4th, 2021. She shared her work on the impact of hormone replacement therapy on survival outcomes of ovarian cancer patients. She is a registered nurse who is currently completing her MSN at UBC Okanagan. She will be starting her PhD at the School of Population and Public Health this fall at UBC, co-supervised by Dr. Gillian Hanley and Dr. Michael Law. Alex's research passions include applying technology to improve patient self-care and improving women's health with population-based data. Alex's work in ovarian cancer is supported by the CIHR Women's Health Clinical Mentorship Grant. She is also a trainee co-lead of the UBC Women's Health Cluster, where she contributes to knowledge translation initiatives such as co-coordinating the Women's Health Blog.
Connect with Alex on Twitter @alexandralukey