Gynecologic Cancer Initiative Trainee Research Day
The Gynecologic Cancer Initiative Trainee Research Day is a virtual event to showcase and celebrate trainees in British Columbia who are conducting research on gynecologic cancers. This two half-day event, happening on
June 3, 2021
and June 4, 2021 will also feature professional development and mentorship sessions. Trainees, researchers, physicians, and patient partners are all welcome to attend this virtual event. More details will be made available shortly.
9:00 – 9:15 Welcome & Opening Remarks
9:15 -10:00 Keynote Presentation by Dr. Susan Porter
10:00 – 10:40 Section A Prevention Oral Presentations
10:40 – 11:00 Break
11:00 – 11:35 Trainee Experience Panel
11:35 – 11:55 Rapid Fire Trainee Presentations
11:55 – 12:20 Break
12:10 – 12:50 Section B Survivorship & Quality of Life Oral Presentations
12:50 – 1:00 Closing Remarks
9:00 – 9:05 Welcome
9:05 -10:05 Section C Diagnostics & Treatment Oral Presentations
10:05 – 10:15 Break
10:15 – 11:00 Keynote Presentation by Dr. Federica Di Palma
11:00 – 11:50 Section D Diagnostics & Treatment Oral Presentations
11:50 – 12:00 Break
12:00 – 12:50 Career Panel
12:50 – 1:00 Awards Ceremony & Closing Remarks
Dr. Susan Porter is a Clinical Professor and the Dean and Vice-Provost of Graduate and Postdoctoral Studies at UBC. She holds a PhD in Biochemistry from the University of British Columbia but has focused her duty to champion the way for graduate and postdoctoral students at UBC to pursue success.
Keynote Topic: Navigating a Turbulent World
Graduate education is needed more than ever in our complex and volatile world, and our graduates are making meaningful contributions in all sectors of society. Dean Porter will share stories, data, and resources to help early scholars navigate the transitions beyond grad school, and will offer thoughts on the particular challenges and opportunities of the 21st century.
Dr. Federica Di Palma is the Chief Scientific Officer and Vice President, Sectors at Genome BC. She holds a PhD in Immunogenetics from the University of Reading and brings over 15 years of experience in genomics and data science with strong international connections in the US through institutions such as NIH, Harvard, and MIT. She was Director of Science at the Earlham Institute in the United Kingdom and led the Institute BBSRC core strategic programme in food security as well as various research programmes aimed at delivering cross-disciplinary application of novel computational and molecular biology technologies to the understanding of living systems. She is passionate about exploring and preserving Biodiversity globally. She leads numerous multidisciplinary international research programs generating strategic partnerships, building human and infrastructure capacity, and translating scientific knowledge into policy and private sector engagement to deliver long-term impact. She remains Professorial Fellow in Biodiversity in the School of Biological Sciences at the University of East Anglia. Her experience also includes roles as Assistant Director, Vertebrate Genome Biology at Broad Institute of Harvard, Senior Research Scientist and Service Centre Manager at Hubbard Centre for Genome Studies at University of New Hampshire, Durham, and Fogarty Fellow, National Institutes of Health.
Keynote Topic: Understanding Processes that Influence the Diversity of Life
Trainee Research Day Panel Speakers & Presenters
Dr. Amy Jamieson is a recently qualified gynecologic oncologist who is originally from New Zealand. She competed her obstetrics and gynecology training in Christchurch, and her gynecologic oncology fellowship in Sydney and Vancouver. She is currently working as the first Miller-Mindell translational research fellow with OVCARE. Her current research projects involve in-depth characterization of p53abn endometrial cancer and molecular stratification of vulvar squamous cell carcinoma.
Dr. Derek Wong completed his PhD with Dr. Stephen Yip and Dr. David Huntsman in 2020 where he elucidated protein-protein interactions and mechanisms of CIC dysregulation, a gene involved in metastasis and cell cycle. He is currently doing a post-doctoral fellowship with Dr. Trevor Pugh at the Princess Margaret Cancer Center. His project involves developing a multi-omic approach for the screening of circulating tumour DNA in patients with hereditary cancer syndromes.
Madison Lackie completed her MSc in Reproductive and Developmental Sciences at UBC in 2019. Her research involved the creation and coordination of the SUPPORT study, which focused on developing a web-based resource for people experiencing perinatal depression. Her MSc work specifically involved running focus groups with mothers who have experienced perinatal depression to inform the content and design of this type of resource. Following her MSc, Madison continued to work on the SUPPORT study as a Research Coordinator with the Women's Health Research Institute. She is now exploring more of the clinical and applied aspects of healthcare research as a medical student at UBC.
Dr. Glenys Webster – Bio available soon.
Dr. Ali Bashshati– Bio available soon.
Dr. Mina Park – Bio available soon.
Thais Santana Mattos is a medical student at Faculty of Santo Agostinho in Brazil. She has interest in the following research areas: gynecology, obstetrics and sexology.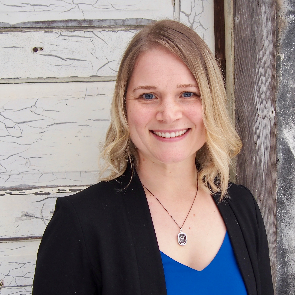 Dr. Sarai Racey is a postdoctoral research fellow at the University of British Columbia. Her current research focus includes the implementation of a digital health platform for HPV self-collection in women under-screened for cervical cancer and a tailored messaging intervention to improve uptake of HPV vaccination in BC. Sarai's research interests include sexual health, infectious diseases, and rural and remote populations.
Jeanie Malone is a PhD candidate in the School of Biomedical Engineering, working in the BC Cancer Research Centre's Optical Cancer Imaging Lab. A graduate from UBC's Electrical Engineering program, Jeanie develops and validates optical tools for the early detection and management of cancer. Her work explores the potential of optical coherence tomography (OCT) and autofluorescence imaging (AFI) for cancer detection.
Dr. Anna Gottschlich, MPH, PhD, is a postdoctoral research fellow at the University of British Columbia. She completed an MPH in Global Health Epidemiology and a PhD in Epidemiology, both from the University of Michigan's School of Public Health. Her PhD dissertation focused on the acceptability and impact of self-collection hrHPV testing programs among hard-to-reach populations. Her current research focuses on the long-term efficacy of hrHPV-based primary cervical cancer screening at varied screening intervals compared to current screening strategies in British Columbia and the United States.
Alex Lukey is currently completing her Master of Science in Nursing at UBC Okanagan and will be beginning her PhD in Public Health in the fall of 2021 under the supervision of Dr. Gillian Hanley and Dr. Michael Law. She is also a practicing Registered Nurse at St. Pauls hospital in Vancouver. Her current work in Ovarian cancer is focused on understanding the use of hormone replacement therapy on patient outcomes in a population-based data set. Alex is looking forward to growing her skills in observational research. She is also passionate about knowledge translation as the UBC Women's Health Cluster Blog co-coordinator and trainee co-lead.
Dr. Helena Abreu do Valle is a Master's student in the Reproductive and Developmental Sciences program at UBC studying long term health outcomes in women with a BRCA 1/2 mutation who have undergone risk reducing bilateral salpingo-oophorectomy. Before joining the master's program, she earned her medical degree at UFRJ (Federal University of Rio de Janeiro) and did residency in Obstetrics and Gynecology and medical specialization in Maternal Fetal Medicine at IFF (Instituto Fernandes Figueira-FIOCRUZ), in Brazil. Her interest in research grew after taking part in a multicenter research project studying Zika virus infection during pregnancy during Zika fever outbreak, prompting her to pursue further research training.
Dr. Rashi Kulshreshtha​ is working as a clinical fellow in Radiation oncology, specializing in Gynecology and Genito-urinary sites.
Bibiana Kemerer​ is an MSc student in the Department of Reproductive and Developmental Sciences at UBC. She is currently completing her master's research in Dr. Lori Brotto's Sexual Health Laboratory. Currently, she is involved in the INTROSPPECT study, which examines the use of mindfulness and CBT interventions for prostate cancer survivors and their partners who are experiencing sexual dysfunction. The goal of her thesis is to translate the study findings into a useful format for prostate cancer survivors, their partners, and the medical professionals who treat them.
Joyce Zhang is a MD/PhD candidate at the Huntsman Lab, at the BC Cancer Research Centre.
Dr. Karolin Heinze studied biochemistry and molecular medicine at Friedrich Schiller University Jena, Germany and Michigan State University. She received her doctoral degree from Friedrich Schiller University Jena and is a Postdoc with Dr. Michael Anglesio since early 2020. Her current research focuses on the transcriptional and epigenomic profiles and immune microenvironment of ovarian cancers.
Ryan Urban is a 4th year radiation oncology resident at the University of British Columbia. He completed his medical school training at McMaster University in 2017.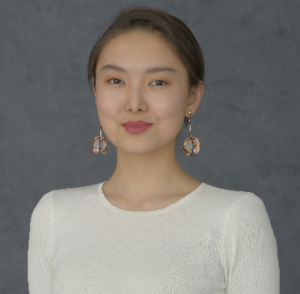 Almira Zhantuyakova is a MSc Student at Dr. Huntsman laboratory. She did her BSc in biological sciences at Nazarbayev University in Kazakhstan. Throughout her undergraduate degree she won several scholarships that allowed her to get research experience in different fields and countries: Metobolomics research in Germany, hematopoietic stem cell research in Japan, algae research in Kazakhstan and finally Embryology research in USA led her to commit on pursuing career in science.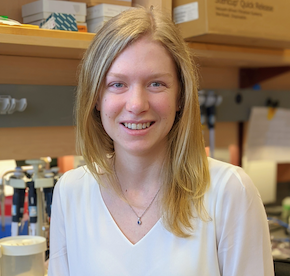 Marisa Kilgour completed her BSc in Biochemistry at the University of Ottawa (2017) before moving out west to complete her PhD in Biochemistry at the University of Victoria. She has been studying the metabolic relationship between cancer and the immune system. Immunotherapies rely on the ability of T cells to eliminate the tumor, but the tumor microenvironment is immunosuppressive, hindering T cell function. One mechanism of immunosupression is the competition for resources between T cells and tumor cells. A deeper understanding of the metabolic relationship between T cells and tumor cells in ovarian cancer patients will allow us to improve immunotherapies for this type of cancer.
Dr. Lauren Tindale is a Postdoctoral Research Fellow working with Dr. Aline Talhouk to study reproductive aging. Her research focuses on risk modelling and molecular classification to improve early detection and diagnostic accuracy in endometrial and ovarian cancers.
Arezoo Alemzadeh Mehrizia is a 5th year PhD candidate at Dr. Leung's lab, where she studies the "Role of ERBB receptor signaling in copy-number high endometrial cancer cell viability, migration and invasion". She has a Masters' in cancer and development from Memorial University of Newfoundland. Her Thesis was studying the effect of RAS/MEK pathway activation in efficacy of Interferon therapy. She obtained her Bachelor's degree in cell and molecular biology from University of Tehran, Iran. Her Honors thesis was studying the KRAS polymorphisms in breast cancer patients. Fun fact about her is that she has been a graduate student leader and community builder since the 1st months of her PhD, holding various roles such as VP students of Graduate Student Society (GSS), chair of GSS HR committee, GSS Councillor, senator and vice chair of Senate Awards and Teaching and learning committees at UBC senate. One of her favorite success stories is championing and leaving the legacy of advocating for off campus students by acknowledging them in UBC strategic plan for the 1st time in the history of UBC and pioneering extension of UBC and GSS services to off campus through establishing collaborations and partnerships with 4 of campus and 5 UBC stakeholders.
Maya DeGrood is a second year master's student in the Interdisciplinary Oncology Program at the University of British Columbia. Maya is thankful to conduct her research on hereditary uterine cancer in Dr. David Huntsman's laboratory at the BC Cancer Research Centre in Vancouver, BC. In her thesis research Maya uses organoids to investigate the early molecular events that occur in the endometrium of Lynch Syndrome patients along the pathogenic pathway to becoming cancer in order to identify novel prognostic markers of the disease. Building off of her experience studying gynecological cancers using stem cells, Maya hopes to pursue a career in embryology after completing her master's degree.
Céline Laumont is a post-doctoral fellow working with Dr. Brad H. Nelson at the Deeley Research Centre (BC Cancer – Victoria) and the University of British Columbia (Vancouver). She obtained her Ph.D. in Molecular Biology from the Université de Montréal under the supervision of Dr. Claude Perreault, where they discovered that non-coding regions of the genome are the main source of tumor antigens for T cells. She also holds a BSc in Life Sciences from the Université Pierre et Marie Curie now Sorbonne Université (Paris, France). In Dr. Nelson's lab, her teammates are using single-cell sequencing and molecular biology approaches to decipher the role of B cells in immune responses against ovarian cancer. They hope that the mechanisms they uncover will help design new immunotherapies boosting anti-tumor immunity and prolonging patient survival.
Allyson Banville is a graduate student in the lab of Dr. Brad Nelson at the Deeley Research Centre, part of BC Cancer – Victoria. Allyson obtained her Honours Bachelor of Science degree in Biopharmaceutical Science with a specialization in Genomics from the University of Ottawa in 2018. Her current research is focussed on deciphering the role of tumor-infiltrating B cells in anti-tumor immunity, particularly through identifying the antigens recognized by B cells in high-grade serous ovarian cancer.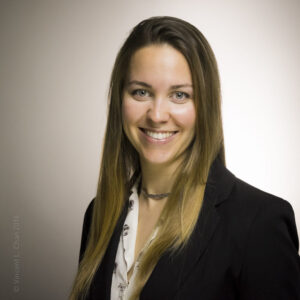 Dr. Diana Canals is a recent PhD graduate at the University of British Columbia She is interested in better understanding tumor progression and metastasis, and in the development of new cancer immunotherapies. Her research focuses on the stem cell marker podocalyxin, and its critical role in tumor invasion and dissemination. She has identified a tumor-specific modification on this protein and shown that antibodies to this modification can selectively target and clear human cancer cells in animal models.
Anna Leonova (Ph.D. student) moved to Canada from Russia in 2014 to pursue education in science. She graduated with Bachelors in Biochemistry and Molecular Biology from Trent University where she also designed an honours thesis on effects of physical activity on severity of endometriosis symptoms. She then joined endometriosis-focused laboratory of Dr.Foster at McMaster University and completed her Master's degree in Medical Sciences with a specialization in physiology and pharmacology. She is now a Ph.D. student who works under the supervision of Drs. Yong and Anglesio on malignant transformation of endometriosis, animal models, and cell death resistance mechanisms. Anna has always been passionate about both endometriosis research and raising endometriosis awareness due to her first-hand experience with the disorder.
Madison Bittner received her B.Sc in Biochemistry from the University of Victoria. She is currently a Masters student in the Reproductive and Developmental Science program at UBC. Her research focus is on combination therapies in breast cancer patients and identifying biomarker of response. Her goal is to be able to better predict which patients will response to current therapies to avoid unnecessary drugs and the associated toxicities for patients who are unlikely to benefit.
Dr. Andrea Neilson is a fellow in Gynecologic Oncology training at Vancouver General Hospital, BC Cancer, and the University of British Columbia. She completed her medical school and residency in OB/GYN at the University of Alberta and went on to practice Obstetrics and Gynecology at the Lois Hole Hospital for Women with a cross-appointment as an Assistant Clinical Professor with the University of Alberta. Her early research experience in Biochemistry/Cell Biology has fostered a passion for the area of translational research in Gynecologic Oncology. Her current research is focused on molecular and genetic tools to improve and tailor treatments and outcomes for endometrial cancer patients.
Hallie Dau, MPH is a PhD student at the at the School of Population and Public Health at UBC. Her research focuses on the impact of cervical cancer on women and families in low- and middle-income countries. She is supervised by Dr. Gina Ogilvie. Hallie previously completed her MPH at the George Washington University where she focused on global maternal and child health.
Evan Cairns is a Master's student in the Anglesio and Talhouk labs that dose research on ovarian cancer subtypes.
Parveen Johal recently graduated from UBC Biology with Bachelor's of Science degree. SHe is now a Master's of Science student in Dr. Aline Talhouk's lab. Her research interests include endometrial cancer prevention and treatment. Her work is being funded by a CIHR Canada Graduate Scholarship for Master's students.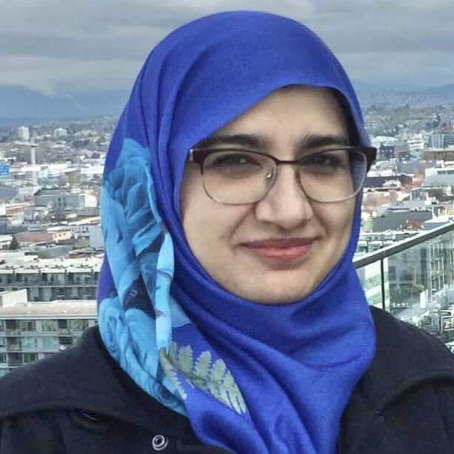 Dr. Farhia Kabeer is a medical doctor who came to Canada to start cancer research after practicing as a clinician in Pakistan. She undertook her master's degree from McGill University, studying the metastatic potential of breast cancer cells. Then she joined Dr. Samuel Aparicio's lab for her PhD Candidacy where her research work was contributed to many high impact journals. Dr. Kabeer successfully defended her PhD thesis recently and is planning to start a career in gynaecological cancers.
Dr. Kabeer has a special interest in cancer evolution and the dynamics of genomically-defined clones. Her research focuses on alterations in fitness landscape reflected in timeseries patient-derived xenografts with or without chemotherapies. She is also interested in gene expression and mapping fitness as a consequence of transcriptome variation. This work has implications for understanding chemotherapeutic resistance.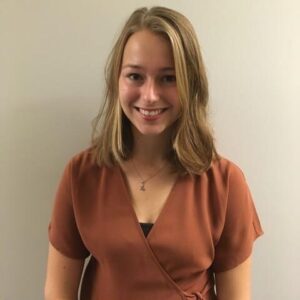 Daniëlla Scheunhage​ is a medical student from the Netherlands. In the Netherlands she was involved in various research projects and after a collaboration on the stratification of endometrioid ovarian carcinomas according to the ProMisE classifier, she visited Vancouver to further explore biomarkers in uterine derived carcinomas. After staying in Vancouver for 6 months she continued working on this project in the Netherlands.