Gynecologic Cancers: Your Journey features information on diagnosis, treatment and resources on living with cancer for people with cervical, endometrial, ovarian, vaginal and vulva cancers.
​​​Gynecologic Cancers: Your Journey​​ was created in collaboration with gynecologic cancer patient partners and is an example of how ​​​BC Cancer is strengthening our patient-centred approach to care.
In response to patient requests for more comprehensive information on the gynecologic cancer journey, BC Cancer partnered with the Gynecologic Cancer Initiative (GCI)​ and a group of 19 patient partners to co-create this new resource. The patient partners provided unique and personal insight into what being diagnosed, receiving treatment and living with gynecologic cancer look like, and what resources are available that could help patients and their families.
"By engaging patient partners, we are able to better understand the information that is important to patients throughout their cancer journey, and create resources together that will enable patients to be more informed and involved in their care," says Sarah Weller, director, BC Cancer Provincial Programs.
To create the guide, gynecologic oncology specialists, palliative medicine specialists, supportive care staff, plain language specialists, library services and others were consulted to advise on best practice, language and patient inclusivity.
"Having a guide for patients newly diagnosed with a gynecologic cancer will help them understand that we recognize the complexity of their situation. We understand that they are multifaceted individuals, with different questions, fears and needs. We hope this guide will demonstrate to patients in B.C. that our team aims to provide the best medical care and to support them in all possible ways following their cancer diagnosis," says Dr. Anna Tinker, BC Cancer gynecologic medical oncologist.
The result is a patient-centred resource that provides a tailored guide for people with gynecologic cancer, made by people with gynecologic cancer.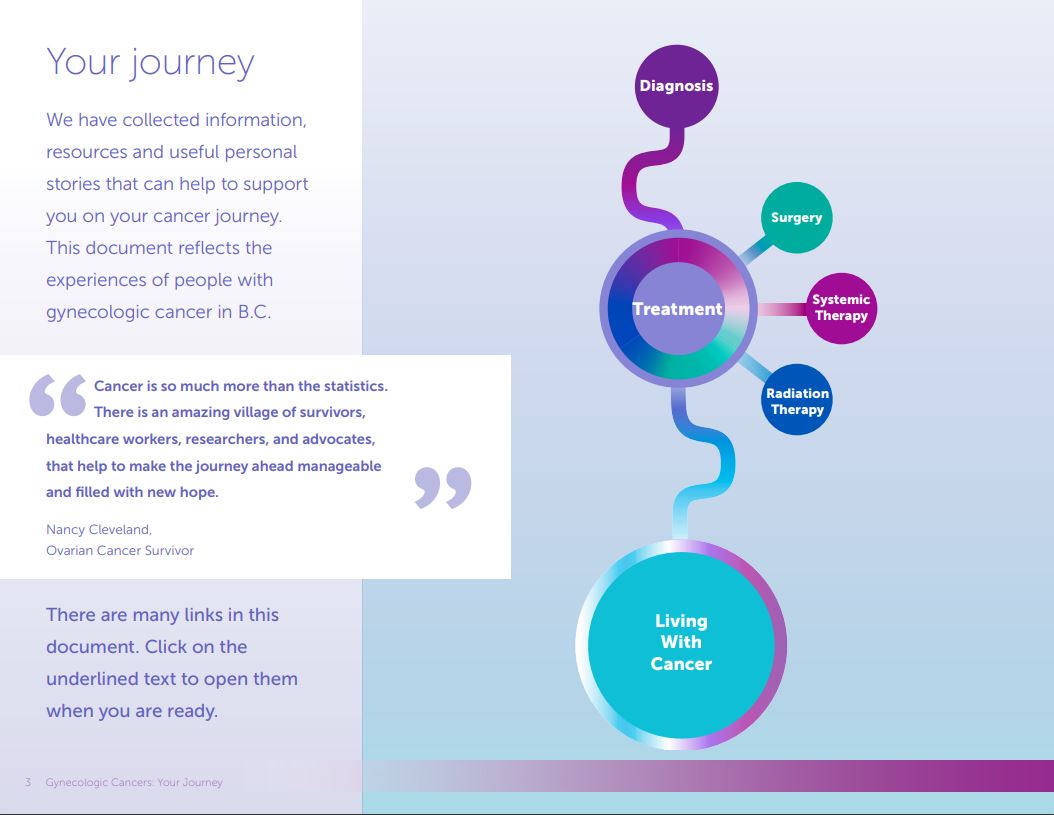 GCI patient partner Nancy Cleveland was one of the first people to approach the organization with the request for a more accessible and comprehensive resource for people with gynecologic cancer.
"So much of any cancer journey, especially at the beginning, is filled with uncertainty and the unknown. This resource is such a gift – it is a reputable well-sourced resource made by gynecologic cancer patients that delves into the journey from diagnosis to survivorship, and everything in between. The underlined links within the resource provide such a wealth of information that is accessible, easy to use, and supportive," says Nancy Cleveland, ovarian cancer survivor and patient partner.
The guide focuses on the main aspects of a person's journey with gynecologic cancers (cervical, endometrial, ovarian, vaginal and vulvar cancers):
Understanding your diagnosis
Treatment (including side effects)
Living with cancer (issues such as fear of reoccurrence, sexual health, premature menopause, etc.)
Resources for your journey (including community support organizations, BC Cancer Supportive Care programs and help with other aspects of life with gynecologic cancers, such as fertility preservation, etc.)
The guide can be found on the BC Cancer pelvic area cancer health information page​ and is also linked to each gynecologic cancer type page (Cervical, Endometrial, Ovarian, Vaginal, Vulvar​). ​
---
Read this article on BC Cancer's website.